Tonight I finalized my pattern for my class project. My instructor recommended only one modification, which was to make somewhat shallower a sharp curve on a crucial piece of the project. "That's a big piece for you to have to try to cut a bunch of times," he said. "That's a money piece." You can see the modification in the photo below---to the biggest piece, number 25, of the flower on the left.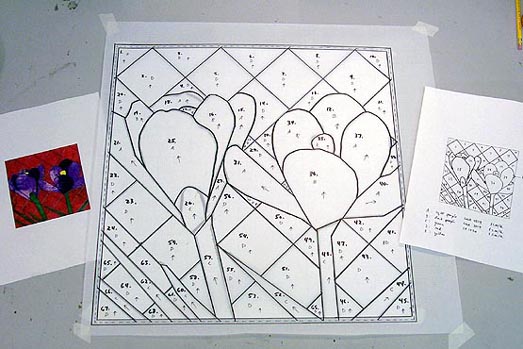 Oh, and I bought glass last weekend too.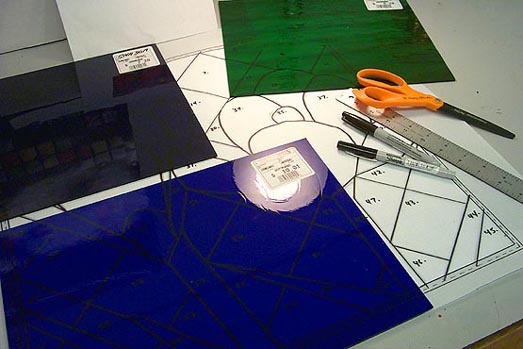 Brands and colors are:
B1122F Bullseye Red Orange Cathedral Glass

GNA3019 GNA Dark Violet

GNA4803 GNA Cobalt Blue

SP123W Spectrum Medium Green Water Glass
Pattern shears
are really cool things. They're three-bladed scissors that will cut out the lines of your pattern for you, 1/16 inch for lead, to allow room for the lead cames with which the individual pieces of glass are assembled. Jimmy, the instructor, says that he was taught to cut his patterns using two-bladed X-acto knives to achieve the same result, which sounds like a real pain in the ass.
I had printed out my Photoshop design, then taken it to Kinko's to blow it up 400% on the Oce blueprint copier. The result of all that enlargement was pretty ugly, so tonight I traced it onto graph paper and will scrap the Oce print. I haven't started cutting my pattern yet, will do so after making an Oce print of the actual-size pattern. Am sort of reluctant to start cutting, the pattern is awfully neat and tidy just the way it is.
Posted by Michelle on October 01, 2002 11:26 PM