Project Archive: Dogwood Windows
Sunday, May 21, 2006: Back in the Saddle?
Hi there. Remember me? I used to do stained glass.
That was three years ago, with only a brief, hurried relapse two years ago, when we were preparing our old house for sale and it became apparent that finishing up the last transom installation could be procrastinated no longer. I dug the last of the three transoms out of the basement, puttied it with a quickness, got Don to frame and install it, and then we sold it (and the rest of our cute little bungalow) to a nice young couple from Dupont Circle. At closing, the nice young couple went on and on about the many renovations that had been done to the house, including the previous owner's kitchen remodel and inventive exterior paint, plus Don's picket fence and built-in bookshelves, but with no mention of the transoms over which I sweated lo these many hours. I choose to believe it's because they mistook them for original to the house. Yep, that's the ticket.
I never did finish the tiered lampshade I abandoned three years ago this month. Going back to school got me off-track, lack of momentum kept me there. One day, maybe.
The lampshade lives in its 85-percent-completed form in the basement of our new house. The new house does not bring the cute the way the old house brought the cute. But we're working on it. The first task was a badly-needed kitchen remodel (before; after). The company who did it for us did a good job, except for neglecting and neglecting to brick up the old stove fan. They have been telling us for a *year* that they'll get to it. But if the molded-plastic vent cover on my outside wall is the biggest complaint I have with the new kitchen? I have no room for complaint at all. As Don observed, the old kitchen was good for nothing except a place to put the Chinese takeout.
The kitchen work finished, I then repainted the entire first floor, with the exception of the bathroom, which was in a state similar to the kitchen's when we first bought the place, i.e.: nothing worth saving; this is a job for the professionals. That was going to be our next project.
And then we bought a Siberian Husky.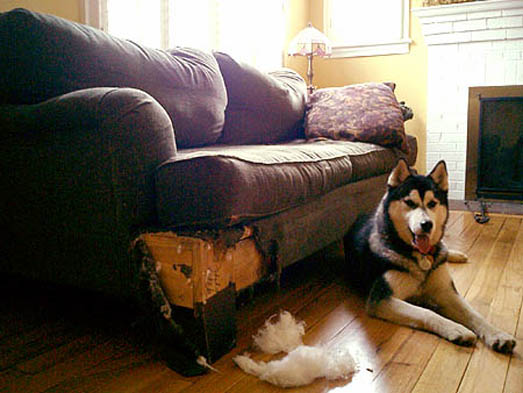 Those of you who know huskies can see where this is going. The breed is insanely high-energy, and especially as puppies, can be very destructive if they get bored. When Tashi was seven months old, we smartened up and adopted another husky to keep her amused, which may be the only reason our new house still stands today.
Even so, most of our project-type energies in the last fourteen months have been devoted to fortifying the house and grounds against the sort of abuse a husky can dish out. For example, a six-and-a-half-foot stockade fence was needed in the back yard when the three- or four-foot chain link that had been there didn't even slow Tashi and Shadow down whenever they would get an exploring itch. And of course there was the pressing need to replace the couch that Tashi ate.
Fortunately, Don had just the answer to that particular problem. For a year or more, he'd been periodically trying to convince me that I liked the look of a mission-style sofa for which he had woodworking plans, from a book of DIY mission projects. Each time the subject was broached, I artfully deflected. "All that wood, it doesn't look comfortable." "When do you have time to build something like that?" "We have a perfectly good couch already." When we no longer had a perfectly good couch already, I no longer had a leg left to stand on. And so Don bought a small forest's worth of mahogany, and built us a new, mission-style couch.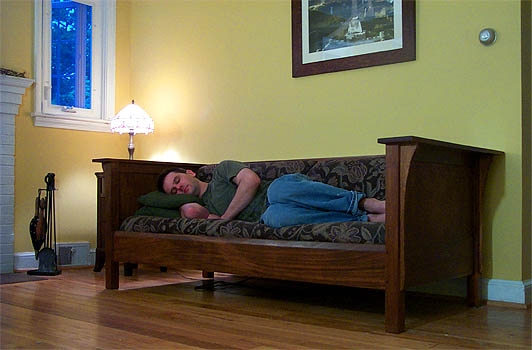 The couch is just about done now. Don wants to put one more coat of finish on the wood, and possibly also add, on each side panel, a little stylized dogwood motif he designed and cut out of holly (for the white petals) and I think walnut (for the dark center).
But even if those things never happen, the couch is done enough to sit on. Shortly after the couch was made sittable (and in fact more comfortably so than one might have initially believed), we were so taken with the new look of our living room that we ripped out the cute, but very dark-making plantation shutters that had infested the first floor of our house when we bought it. What a difference that made to the feel of the living room: no longer a sullen cave, but an airy nest of domestic delight! (The less-vomitous-than-previously shade of yellow in which I repainted the living room last year helps, too.)
Once we had some sunlight in that room, I suppose it was just a matter of time before I decided we needed some stained glass. Something incorporating Don's dogwood motif. Something, I am thinking, that might look like this: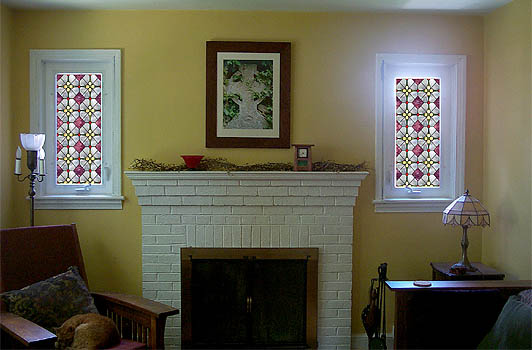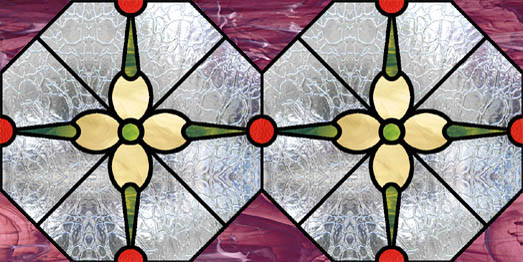 Monday, May 22, 2006: The Part Where Mistakes Can Be Made Without Breaking A Thing
Tuesday, May 23, 2006: Soon Turned Out, I Had A Heart Of Brass
Wednesday, May 24, 2006: Window Clarity
Wednesday, May 31, 2006: Holding Pattern
Sunday, October 15, 2006: Breakdown; Regroup
Tuesday, October 24, 2006: 3 Photographs
Sunday, November 05, 2006: A Thousand Words
Tuesday, November 14, 2006: Spinning in Circles
Friday, November 17, 2006: Tod Beall Is My Hero
Sunday, November 19, 2006: Squint And Pretend
Wednesday, November 22, 2006: Jewels Ahoy
Saturday, November 25, 2006: Anal-Retentives Apply Within
Sunday, November 26, 2006: Proof-of-Concept
Monday, December 04, 2006: Stolen Time
Friday, December 08, 2006: We Have The Technology