Project Archive: Transoms
My second stained-glass project (and first independent one) will be to build three transoms for the hallway of the bungalow I share with my sweetie Don... or maybe four if I get really ambitious and decide the one from the kitchen to the mud room is worth doing too. I expect I'll finish in January or February of 2003.
Sunday, November 10, 2002: Sic Gloria Transom
Now that the crocus panel is all but finished, it is time to turn my attention to the transoms in the hallway of the bungalow I share with my sweetie.
There are three in the center hallway downstairs, over doors to the bathroom, the guest room, and the dining room. Here's a "before" photo of the first two: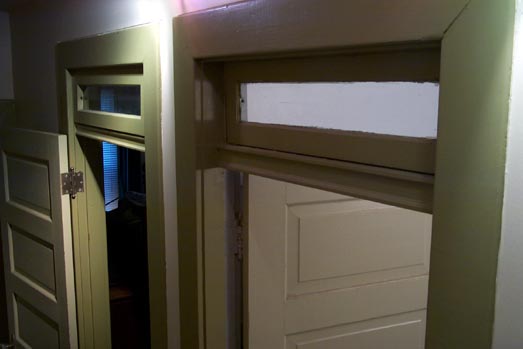 The other is across and down the hall so doesn't fit in the picture. But it's more of the same.
There's also a transom over the back door in the kitchen, leading out to the mud room. It's sort of a mess---the last owners of the house, I believe, wanted to make sure that that transom would
never open again
, so its short ends are covered over outside with little ends of lumber, and then painted closed with a vengeance. Plus, there isn't a light in the mud room, so if that transom were replaced with pretty stained glass, the pretty stained glass would not be shown to its best advantage. So I might just skip that one entirely. I'll do the three in the hallway and see how I feel then.
I dragged a bar stool up and down the hallway to stand on as I took measurements of each transom. In case I lose the scrap of paper on which all this data is recorded: 28 3/4" by 7 7/8" over the guest room and dining room; 26 3/4" by 7 7/8" over the bathroom; who the hell knows by 7 7/8" over the mud room.
The transom in the bathroom was also painted shut. It took about twenty minutes of hacking with my five-in-one tool to finally loosen the transom so it would swivel freely, and I made the Devil's own mess doing it.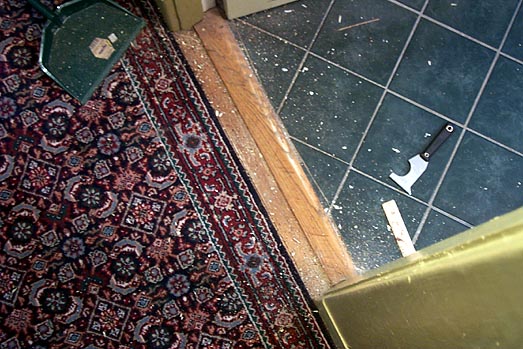 I was feeling awfully handy by the time I finished freeing the transom. I don't think it's swiveled on its pins in years and years.
Now that I have good measurements, I'll bust out some graph paper and start making some drawings, see if I can come up with something my sweetie will like. It's the dreaded comp-approval phase of the project, except if
this
client gets too micromanagerial about the lovely transoms he'll be getting, pro bono no less, I can call him a finicky bastard, tell him to get lost and go cook me something nice for dinner. I sort of hope it happens, actually.
Posted by Michelle at
03:48 PM
|
Comments (0)
Monday, November 11, 2002: Ladies and Gentlemen, We Have a Winner
Wednesday, November 13, 2002: Buying Spree(s)
Thursday, November 14, 2002: Tracing Transoms
Saturday, November 16, 2002: Fun with Scissors
Monday, December 09, 2002: Back in the Saddle Again
Friday, December 13, 2002: The Making of an S-Shaped Sliver: A Picture Essay
Friday, December 13, 2002: Ain't Playin Around
Friday, December 13, 2002: Pictures Can Lie, and Do
Sunday, December 15, 2002: Gloat While the Gloating's Good
Thursday, December 19, 2002: Slow but Steady
Friday, December 20, 2002: Having Leaded
Friday, December 20, 2002: Flux, Solder, et Voila
Saturday, December 21, 2002: Now the Messy Part
Wednesday, December 25, 2002: Squint and Pretend
Saturday, December 28, 2002: It's That Time Again
Wednesday, January 01, 2003: Glass Monkey
Sunday, January 05, 2003: Teamwork!
Sunday, January 05, 2003: 8 Photos
Monday, January 06, 2003: One More
Thursday, January 09, 2003: Mass Production on a Very Small Scale
Friday, January 10, 2003: Leet Skillz
Saturday, January 18, 2003: Antici.....
Monday, January 20, 2003: Double Your Fun
Tuesday, January 28, 2003: Procrastination Street
Thursday, March 27, 2003: Framing Another Transom
Monday, May 12, 2003: Twinning Transoms
Monday, June 28, 2004: A Much-Delayed Denouement