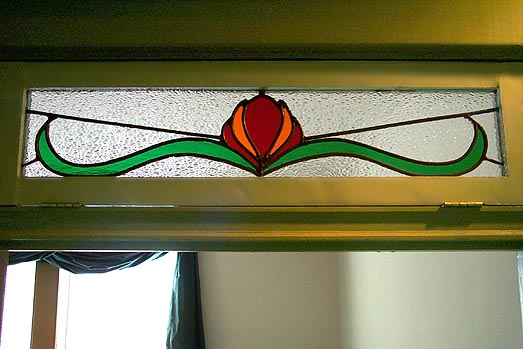 I'm done posting photos of the first installed transom now... really. Just wanted to see how good a photo I could come up with using daylight and my old brick of a Kodak, not nearly so much fun as my new Casio but capable of somewhat crisper photos. Here you can see the "rough rolled" texture in the green glass---the red and orange are exactly the same, but it's harder to capture in such small pieces.
I've got no plans or obligations today---well, I did tell Don I'd try to get the sawdust situation here in the house under control---so I think I'll do what little grinding remains for the second and third transoms, and maybe even start leading.
Don's birthday is January 19th, and I've been quietly hoping to have all the transoms built by then. It's up to him whether they're installed that quickly, of course, but I bet he'd be tickled just to have the other two panels in hand. Don't tell him though---it's our secret.
Lastly, it occurs to me that I have been lax lately in the documentation of flesh wounds. It's not for lack of bleeding---there were a couple of very minor but disproportionately messy incidents over the last week that have left one of my workboards and a couple of my hand tools with, um, let's just say that now you know where to find DNA samples for me, should you ever need them. Also, since I did all the grinding for transoms two and three in a couple of long sessions last week, I developed these perfectly straight, dry-looking slits or cracks along the undersides of my thumbs, an inch or so long, where I use them to push cut glass into the head of the grinder. Those never bled, however, so I assumed they looked a lot uglier than they were. Until I heated up some edamame over the weekend, doused it in kosher salt, and started eating---ouch, ouch, OUCH. I love edamame too much to have done the smart thing and quit (literally) rubbing salt in my wounds. So I just gobbled my soybeans as quickly as possible, thumbs athrob, and resolved to examine anew the funny little thimble-like things some glass shops sell for the prevention of just this problem---til now I've sort of snickered at them, but I'm not laughing now, no sir.
Posted by Michelle on January 06, 2003 11:04 AM