The compulsion to somehow make Weisser's lilypads/lotus flower pattern my own did not go away. So I made the lotus flower a little flying friend.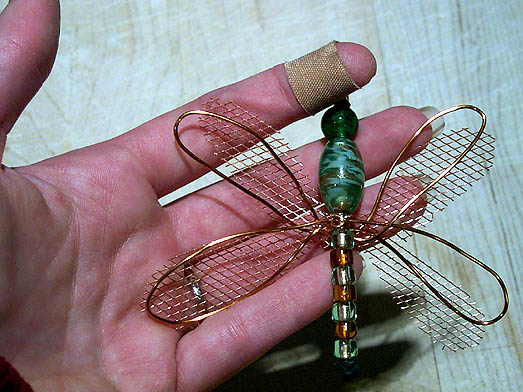 The dragonfly is made of copper wire, copper mesh, and glass beads in greens and ambers. Sheer optimism leads me to believe that I can find a way to securely fasten it to the face of the lilypads panel. It's that or hurt myself with the soldering iron, trying.
Also, I almost forgot: remember Bob Ross? "Little happy trees" (doubtless the happiness was the direct result of a contact high)? It is my solemn duty to tell you that BOB ROSS LIVES. Specifically, at Michael's crafts stores.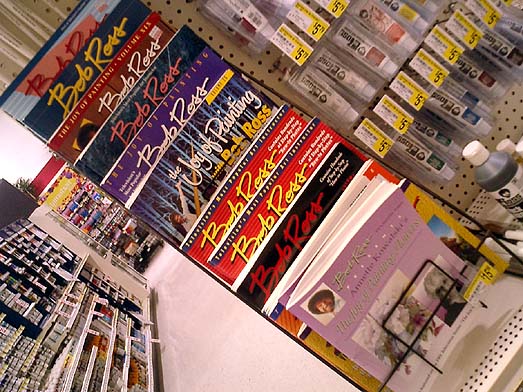 Posted by Michelle at
08:05 PM
|
Comments (7)
Eve
and I were at last successful in our quest to go see the Frank Lloyd Wright leaded glass exhibit at the Renwick this weekend. I have a few photos and a few musings to share, but not now (I find myself update-averse just lately, for no other reason than ennui; I'll get over it eventually). However, I did promise Eve I'd re-find a link I'd seen on
Anil Dash
's site about circa-1950s Frank Lloyd Wright designs for
several buildings in Baghdad
.
None of the buildings were ever erected, due to a "military coup" that "put an end to this project." The precision of really well-executed architectural drawings is itself fascinating, though, and too it's as timely as it will ever be to consider an alternate reality in which U.S. bombs have destroyed some of the last buildings designed by the country's best-loved architect.
I wonder how the keening and wailing over such destruction, over in that parallel universe, would compare to that over the theft and the mindless destruction of cultural and artistic treasures thousands of years old that has taken place in Iraq in our present, unlovely reality. While that story has become a hot one just lately, as the networks exhaust their last caches of film of pretty explosions, I still suspect that a lot of Americans just don't grasp the hugeness of what's been lost. For many of us, our sense of ancient history goes back exactly 227 years, and stops. From such a perspective, is the value of cultural artifacts five thousand years old truly comprehensible? It's like the difference between a million and a billion: mathematically quite precise, but in practical terms, completely abstract in the minds of most. There are riches, and then there are riches.
If---for argument's sake---eight Frank Lloyd Wright buildings had been erected in Baghdad in the late fifties to early sixties, and if every one had been destroyed inside a few weeks of early 2003, that destruction would even so be nearly meaningless compared to
all that has been lost
in Iraq in the last few weeks.
Posted by Michelle at
11:26 PM
|
Comments (0)