We have a very pretty lamp with a shade of rose-and-cream glass, that came from Don's parents, if I am not mistaken. I say "we have" but really it's Protein's lamp. That's because for a long time, it sat by the big double window in the living room which overlooks the back yard, so Protein would spend hours watching the flying prey while warming herself underneath the lamp. It's not in Protein's window anymore, but it's still Protein's lamp.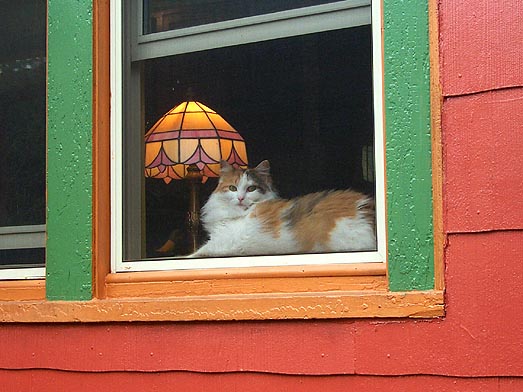 I was looking at the lamp last night, and wondering what kind of math I would have to know in order to design something like it.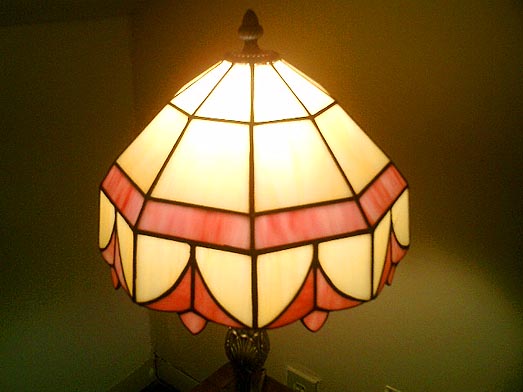 It's done in four horizontal sections or rows. Each section, moving from the top of the lamp to the bottom, marks a decline in the angle at which the glass flares outward, until in the bottom section, the glass pieces are perfectly vertical. The mystery, to my math-impaired mind at least, is this: How would you design something like this on paper? It's not like a panel lamp, where you basically build four flat panels and mount them all together at their edges. With a lamp like this, you'd have to plan exactly what all your angles would be ahead of time, and that would determine the dimensions of your individual pieces of glass. Or vice versa, I don't know. Either way, it would have to be carefully planned in order for everything to fit together.
Don and I discussed it before bed last night, and he ended up giving me a remedial trigonometry lesson. Which was edifying but I still come up with a blank when I try to think of how to apply that to three-dimensional objects, and what the process would be to draw up design plans for such an object.
This is bugging me. I hate not knowing stuff. I suppose I'll have to search the web later on to see what I can find, but I'm not sure what I'll search on. "three dimensional non-curvy objects for dummies" perhaps. Or, even better, "buy CAD program to do all the math for me".
Posted by Michelle on January 30, 2003 11:08 AM