The last few days have seen a virtual whirlwind of transom-building activity here at the house.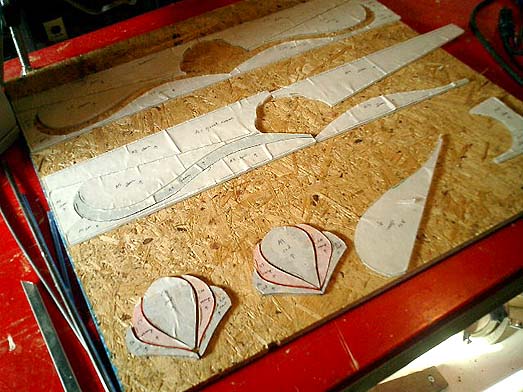 I finished cutting all 34 pieces of the two remaining transoms, and did clean out my nasty mess of a grinder. The only grinding I have left to do as of now is to clean up one of the long green S-shapes, plus use the small head on my grinder to make small notches in four pieces, where the orange sections of the flower shapes cut upwards into the clear glass above. I did break one of the evil panhandley pieces on the grinder, even as I was trying hard not to do that very thing. So I'll have to recut it. Watch me procrastinate---if there's anything that will make me hate this project before it's done, it's those four extremely vexing pieces.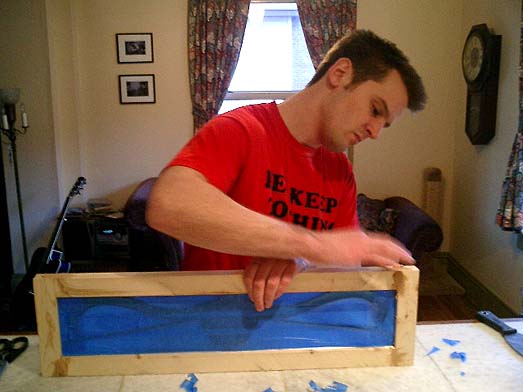 Meanwhile, Don made yet another pile of sawdust in the basement in order to come up with the production version of his transom frame today. He fit it onto the transom, screwed it all together, protected the glass with painters' tape, puttied the seams, and sanded it down.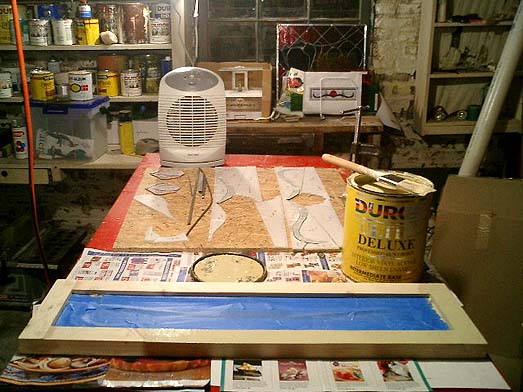 Tonight, after the putty had dried, I took the transom back downstairs and started painting it. The first side will dry overnight and I'll do the other tomorrow. It might take a few coats before I'm totally happy with it, but this transom could be hung up within the next couple of days. Excitement so thick, you could cut it with a knife.
Posted by Michelle on January 05, 2003 12:56 AM