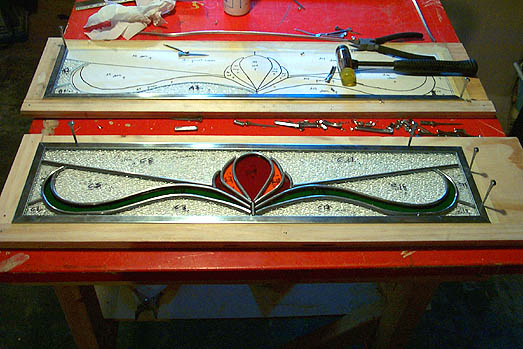 I spent a large chunk of today working on transom number two, and got it all leaded. I'm really pleased with it. I broke absolutely nothing in the leading process---a first for me---and this transom has far fewer flaws of symmetry than the first one did. Not that the first one was horribly uneven or anything, but this one's
really
nice and symmetrical.
I still end up with small gaps where lead lines should join, and it's a pain. Most of it's due to all the interlocking pieces of this design in particular, I think... there a lot of putting pieces in and then taking them back out later in order to fit in others, and things tend to shift by fractions of inches when doing all that. So what were perfect lead joints may not be so perfect anymore by the time I've finished shuffling glass in and out of the construction. But I know how to fix the gaps, later, during the soldering process, so it's not a problem, only a bother.
I predict in the very near future another sawdust infestation of the entire house. Amazing how you can confine the woodworking tools to one small corner of the basement yet still end up with sawdust all the way up to the attic inside an afternoon. I blame the cats.
Posted by Michelle on January 10, 2003 04:48 PM