I discovered a few days ago that I would be one measly $3.50 length of lead short of what is necessary to finish the last transom. Today, in order to procure the measly length, I undertook the half-hour-or-so drive to Kensington. While waiting patiently at
Weisser
for my lead to be pulled, I noticed they had all these foot-square pieces of a swirly iridescent blue lying in stacks on the worktables, and great sheets of the stuff leaning against the vertical glass bins lining the walls. I paced around and eyed the glass, pretending not to. It became inevitable that I would take some home at the point I decided to go ahead and ask what the glass was.
They said it was a Spectrum glass. I/339-6S, to be exact, which is their
Dark Blue/White, Wispy
... except
iridized
. Spectrum's website doesn't give color chips for the iridescent variations, going on about how tough it is to photograph it properly.
I tried my hand at it, and believe I did okay. You really need two pictures to get a good idea, though: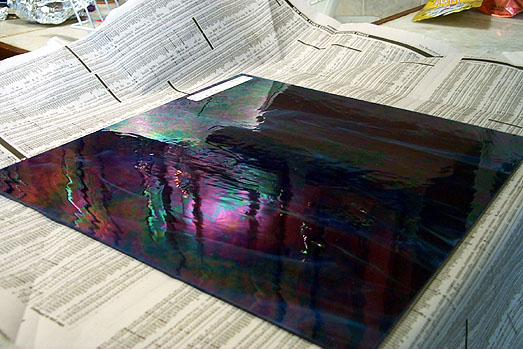 This is how the glass looks in reflected light. Here you can see the shiny iridescence that coats the glass's surface.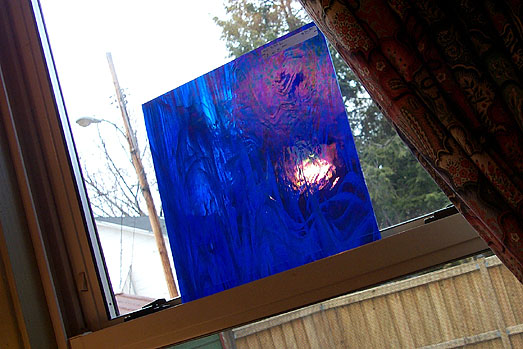 Putting the glass against a window in order to view the light it transmits, you can see that the base color of this glass is a transparent cobalt blue, which is finely swirled with opaque white.
Super, super cool. The person behind the counter at Weisser said they were just getting it in, and if I'd come in half an hour earlier, I would have missed it. Even though I have no idea what I'm going to do with this pretty blue glass, I'm glad I happened in when I did.
Posted by Michelle on January 14, 2003 04:40 PM