Another busy week. I find now I take glass breaks as if they were smoke breaks: ten hurried and guilt-ridden minutes at a time, in between billing like hell.
You can accomplish a lot of leading ten minutes at a time, though.
This photo was taken of transom number three on Wednesday around noon, and my original plans for it were to crow about how nice and tight my lead joints have turned out underneath the flower/cabbage for this last transom: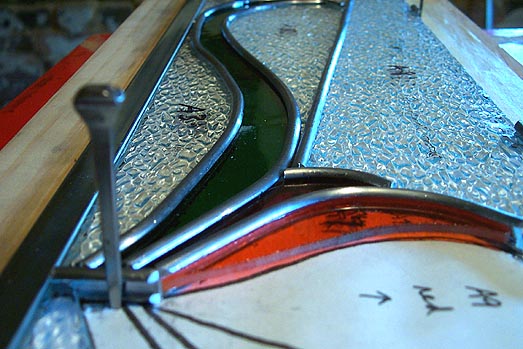 And this photo shows how far it had come by last night (Thursday night):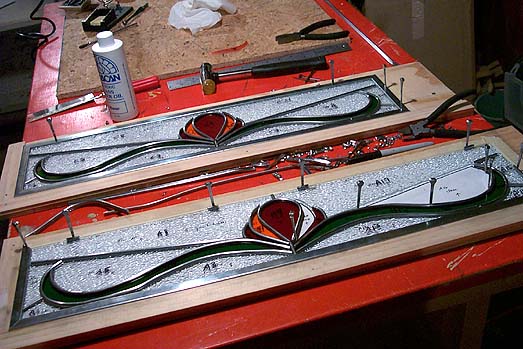 Tomorrow is going to be all about being
very very
productive with things other than glass, so that I can spend Sunday catering to the whims of
the birthday boy
. I'm not sure yet whether birthday whims will include my doing any transom-building, but the next time I have an unstructured hour or two, I will finish leading and then get to soldering.
Because I live in a godforsaken clime of bitter chill and tiresome snow---the sort of place people live if they haven't the good fortune to live in the South---I have some logistical concern about puttying these transom panels. Last time there was puttying to be done, the weather cooperated by warming up enough to let me work on the front porch without losing any fingers. Now I don't think the temperature is supposed to get up above freezing until Monday afternoon, and puttying makes far too nasty a mess to do it inside. Might have to head out to the shed-garage with my space heater. On the very small plus side, the garage may be the one and only covered shelter on the planet where I am free to do glass
and
smoke.
Posted by Michelle on January 18, 2003 12:31 AM