Cut up one of the patterns for my transoms today. Just one. It would be more efficient to build all three simultaneously, but until I know for sure that I can successfully cut and lead scary pieces like this---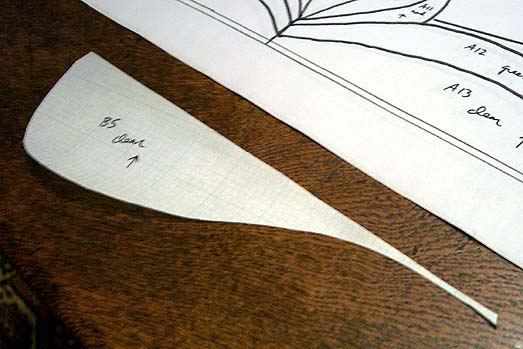 ---one transom at a time seems like a good idea.
With the crocus panel project, I realized that it really is a good idea to try to cut precisely along the lines of your pattern. I had assumed that it wouldn't matter so much, as the pieces would fit together regardless. While that's true as far as it goes, it also means that building the piece on top of a building pattern is less of a help than it could be---optimally, you're using it to make sure your glass cuts are as they should be, which you really can't do if the lines on the building pattern bear no relation to where you cut your original pattern. Also, as it was my sad fortune to
discover
, if you end up breaking one of your glass pieces at some point, it's very useful to know that your building pattern will be pretty accurate for tracing out a replacement.
So I cut up my pattern very slowly and very carefully tonight. My goal was to cut out with the pattern shears nothing but the red and green Sharpie lines which represented the edges of all my pieces. I am pleased with the results.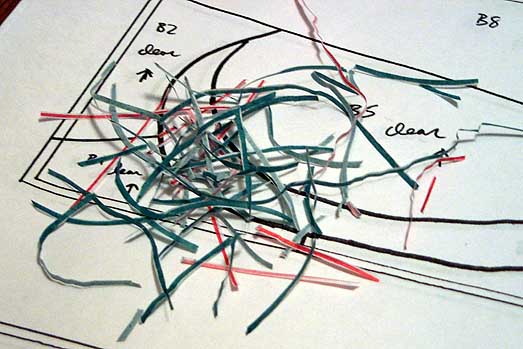 More building pattern inefficiencies: I took my original, pattern-paper pattern to a different Kinko's to use a different Oce oversize copier than I did to blow up my one-third-sized Photoshop comp the other day. You will remember that that first Oce introduced a slope in my nice straight lines at one end of my patterns. Well, there was no slope in the product from the Oce I used tonight, but it did give me a copy about 1/16" too long on the
x
axis, though the
y
was fine. For future work which needs to be installed into existing spaces, I'll definitely be looking into blueprint duplication so I don't have to deal with inaccuracies introduced by crappy Oce copying. ---Actually, Oce probably makes very fine machines, but experience tells me that anything you put into a Kinko's for public use is going to be beat to shit before long.
I've got a crampy, stiff right hand today---must stop sleeping on top of my arm---so there's no way I was going to get any glass cut. But I did fit a building pattern and some zinc frame to one of my workboards, for which I bought wood earlier in the week, no thanks to those employees of Home Depot who apparently catch the short bus to work each morning. I must admit, it's sort of exciting to see the pattern all laid out on the workboard and ready to go. It looks like
the real thing.
Whatever that exactly means.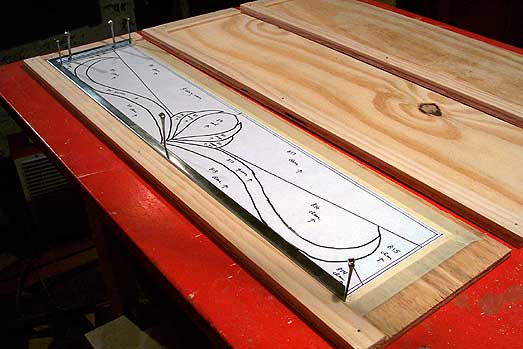 Posted by Michelle on November 16, 2002 09:24 PM