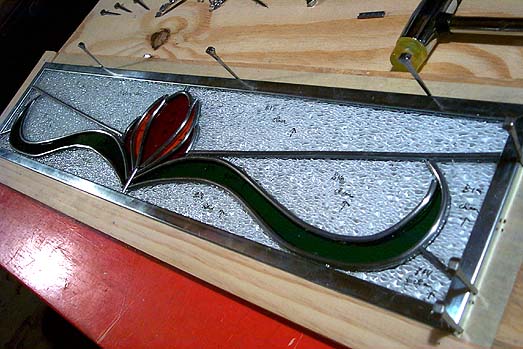 Finished the leading on transom number one last night. Was really,
really
surprised to have it go as well as it did. I didn't tell you about the night earlier this week when I not only broke one crucial, difficult piece, but also broke about three of its replacements in their cutting, before finally managing to produce a whole one. Part of me was expecting the corresponding pieces on the right side of the transom to behave just as badly, but no. Plus, bending the lead into curves went much better on the right side than it did on the left, too.
I hope my good fortune will hold when I start soldering today. I've mentioned before that the stained glass class I took in the fall focused on mechanics as opposed to design, but one design pointer we were given was not to design pieces where a whole bunch of lead lines converge, as that is an excellent way to end up with an unsightly lead blob at that place. This is advice I totally ignored in the designing of my transom, so it will depend on luck that I not end up with a craggy, leaden mountain range at the base of my flower shape.
Posted by Michelle on December 20, 2002 10:34 AM