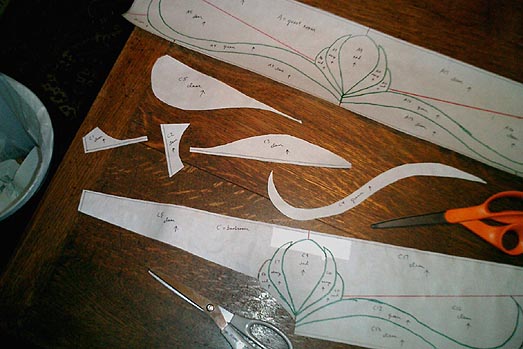 Time for cutting up little scraps of pattern paper.
Spied at the drugstore tonight a bag of ten "non-latex" gloves, and made them mine, thinking of the havoc wrought upon my hands last weekend in puttying the first transom. Hot water only turns the putty residue on your hands into sticky black grease; it does come off with Dawn but then I wonder if accumulated putty in the kitchen drains can really be a good thing. Hence, disposable gloves.
The above photo and the recent one of Don testing the fit on one of his wooden transom frames were taken with my new toy, a
leetle tiny Casio digital camera
. Love it; it's vastly smaller and quicker than my old Kodak DC290. It won't replace the more powerful Kodak, but I can turn it on, take a volley of photos, and turn it off again in the same time it takes the Kodak to wake up, so I believe the Exilim may now be the official camera of this weblog, except for timelapse tripod shooting. Only (tiny) problem: its photographs are at a different aspect ratio than those of the DC290, which might require a little bit of adjustment on my part, if not an out-and-out revision of the Adventures in Dangerous Art unified graphic sizing standard. It's turbulent times, I know.
Posted by Michelle on December 28, 2002 01:23 AM