While I've been playing on the computer tonight,
Don
has been his usual industrious self. He spent the evening in the basement with the table saw, working out a plan for frames for our transoms. He is not quite there yet, but tonight he produced a test frame that was close enough to right to let us prop up the transom in the door frame to get an idea of how it will look: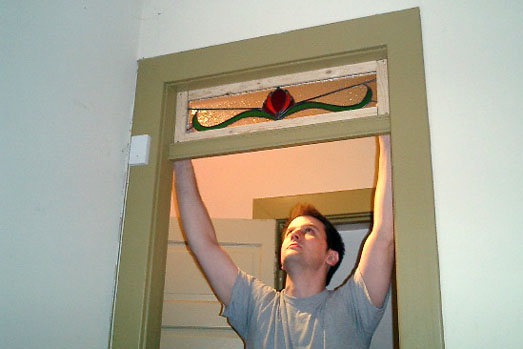 Sweet.
To bring the record properly up to date, I did get the transom puttied, cleaned up, and spot-patinaed over the weekend. A nice thing is that the wooden frame of the transom will hide the zinc border of the stained glass panel so I don't have to worry about patinaing or polishing it. So the transom panel is finished, just waiting for its pretty wooden frame. There are two more to build, though, so I'm not doing the finished-my-project dance quite yet.
Posted by Michelle on December 25, 2002 11:16 PM