Now that the crocus panel is all but finished, it is time to turn my attention to the transoms in the hallway of the bungalow I share with my sweetie.
There are three in the center hallway downstairs, over doors to the bathroom, the guest room, and the dining room. Here's a "before" photo of the first two: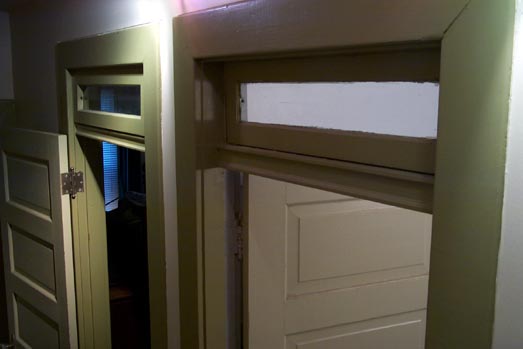 The other is across and down the hall so doesn't fit in the picture. But it's more of the same.
There's also a transom over the back door in the kitchen, leading out to the mud room. It's sort of a mess---the last owners of the house, I believe, wanted to make sure that that transom would
never open again
, so its short ends are covered over outside with little ends of lumber, and then painted closed with a vengeance. Plus, there isn't a light in the mud room, so if that transom were replaced with pretty stained glass, the pretty stained glass would not be shown to its best advantage. So I might just skip that one entirely. I'll do the three in the hallway and see how I feel then.
I dragged a bar stool up and down the hallway to stand on as I took measurements of each transom. In case I lose the scrap of paper on which all this data is recorded: 28 3/4" by 7 7/8" over the guest room and dining room; 26 3/4" by 7 7/8" over the bathroom; who the hell knows by 7 7/8" over the mud room.
The transom in the bathroom was also painted shut. It took about twenty minutes of hacking with my five-in-one tool to finally loosen the transom so it would swivel freely, and I made the Devil's own mess doing it.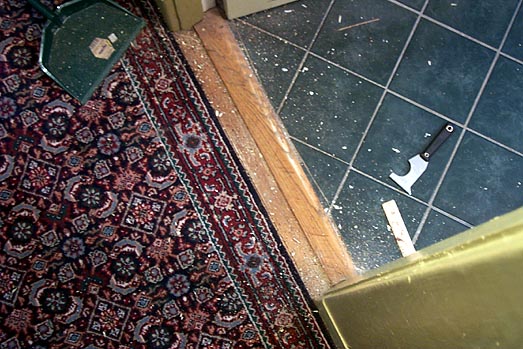 I was feeling awfully handy by the time I finished freeing the transom. I don't think it's swiveled on its pins in years and years.
Now that I have good measurements, I'll bust out some graph paper and start making some drawings, see if I can come up with something my sweetie will like. It's the dreaded comp-approval phase of the project, except if
this
client gets too micromanagerial about the lovely transoms he'll be getting, pro bono no less, I can call him a finicky bastard, tell him to get lost and go cook me something nice for dinner. I sort of hope it happens, actually.
Posted by Michelle on November 10, 2002 03:48 PM