It's not that I lost steam on the dogwood windows project after getting only as far as buying nine square feet of glass. It's that I don't have a place to work.
At the old house, the unfinished basement was full of ancient, dusty, ugly cabinets and benches and tables (including a small mirrored medicine cabinet with little pots and vials of things like mouthwash and shaving cream and pain relievers that dated, I'm guessing, from the 1940s and 1950s). One of these antiques, an unpretty but solid work table, was perfect for stained glass work. It had been there since long before Don bought the place, and now that we've sold it, there it remains. It didn't seem worth moving, but I'm kind of kicking myself now, because the basement at the new house is all drywall and recessed lighting. Nary a dusty, unused workbench in sight.
Nothing's stopping me from going to IKEA and getting a cruddy little laminate table, except, well, maybe I'm cheap but spending sixty dollars on furniture that's just going to end up covered in glass dust, solder balls, and lead came scraps? I can't bring myself to do it.
So I've been hovering around the furniture ads on Craig's List and the local Freecycle boards. I failed to move quickly enough on two good candidates there, which will get old fast if the pattern continues. Don had suggested a trip to Rough and Ready at 14th and T Streets in Shaw---a Sanford-and-Son-esque cave of dusty used furniture stacked to the leaking ceiling. But I reminded him that Rough and Ready was gentrified away recently, the entire block purchased for a planned condo development, and I know of nothing else like it.
I may have to break down and get Don to build something for me. Plywood and two-by-fours: stronger than IKEA laminate and aluminum, yet vastly less expensive. Why didn't I just ask him in the first place? Well, he's been busy, cleansing his palette after the couch project with an amusing little Mission end table, something he can do with one table saw tied behind his back you understand.
It's almost done now. When the furniture Don is building suddenly looks like something purchased at Abu Ghraib's Going-Out-Of-Business Sale (all torture implements must go!), that means glue-up is in progress.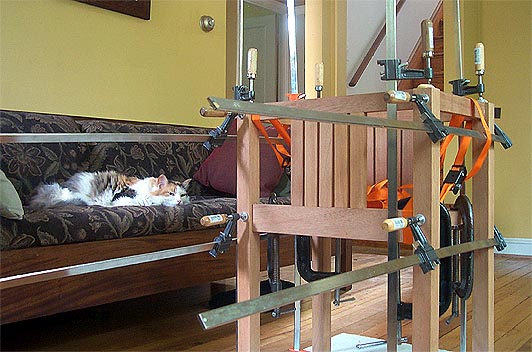 And if glue-up is in progress, the end is in sight. I'll wait a few days for Don to put a finish on his end table and call it done; if by then my own Craig's List want ad hasn't resulted in a beefy workbench big enough to hold two 15 by 33 inch windows-in-progress, it'll have to be handy husband to the rescue.
Posted by Michelle on May 31, 2006 08:17 PM | TrackBack