... all apologies to Andy Warhol ...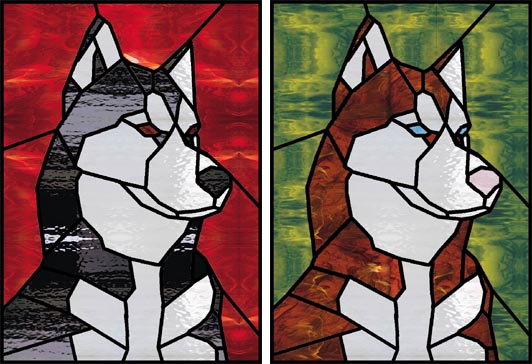 I did this pattern 2 or 3 weeks ago, just noodling around in Photoshop, trying to get the stained-glass circuits in my brain flowing. I'm not going to build it, though. I may love animals, but I do not, as a rule, love decorative animal-themed tchotchke. There's a line there you can't cross, when you have as many pets as I do.
If you would like to build it, however, you're welcome to. Here's a cutlines-only, larger version. Two rules: 1) Don't sell it. If you're tempted, keep in mind that I have both the original photo this pattern was based on, and the original dog, and that right there is a recipe for an embarrassing situation for you. 2) Please send me a photo! I'll post it here, or not, whichever you like.
Hey, and, you glassers, is it cuttable? I really did my best with the whole area around the left eye, which is now at the point where good proportions are being sacrificed for larger/more-cuttable pieces, and I'm afraid to take it any further. If you see major issues with the pattern, leave a comment here and I'll revise accordingly.
Posted by Michelle on May 27, 2006 08:52 PM | TrackBack