A comment on the Glass Chat board about my last entry cautioned me against laxity in installing my dogwood windows (caulk bad, screws and stops good). It made me think I should clarify a bit. A picture's worth a thousand words: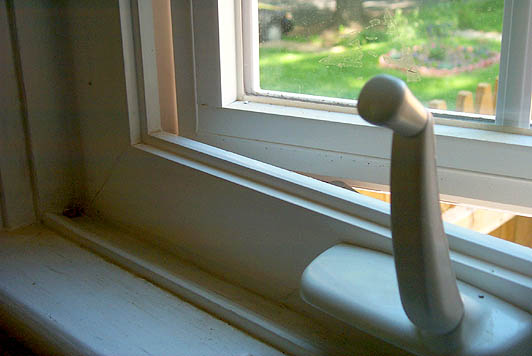 The part of the window that actually opens up is built in such a way that the glass is inset into a kind of recessed frame, leaving a lip maybe half an inch deep all the way around the glass where my stained glass panel can handily rest, and be affixed accordingly.
I thought I'd clarify in case anyone got the idea that you could use caulk to "glue" a stained glass panel to a window frame, without there being a lip or channel of some kind for the panel to rest on. I don't want to be responsible if someone tries it and ends up with their stained glass in shards on the floor!
Posted by Michelle on May 24, 2006 04:12 PM | TrackBack