More cutting tonight. The Cobalt Blue pieces, nine of them. Wasn't sure I'd have enough glass, so I tried very hard to cut very carefully. Made it through eight and seven-eighths of those pieces before accidentally taking a small chip out of the back edge of piece number nine. I want so badly to pretend it didn't happen, but I can't: any chip, scratch, crack, or even too-rough edge becomes a stress point which will, two or six or twelve months down the road, be the first place the finished panel will crack.
Just for a moment, pretend with me that it didn't happen: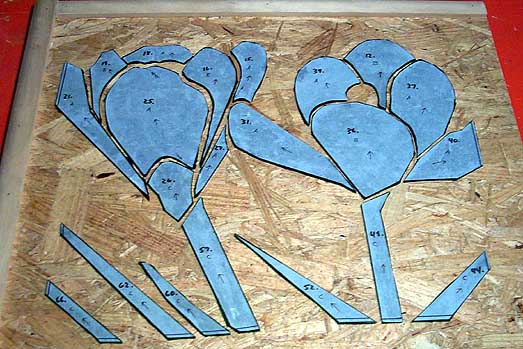 21 pieces down, 48 to go. That'll be 2 curvy small yellow bits, and 46 red background pieces, most of which are nothing but straight lines, i.e., harder for me to screw up. Plus, of course, a redo on the one I messed up tonight, whenever I can put my hands on a scrap-sized piece of Cobalt Blue.
Tonight's injury: clumsily poked myself in the cuticle of the index finger of my left hand with a sharp corner of fresh-cut glass. That finger is looking
really
rough these days.
Also today, ordered a
grinder
from Warner-Crivellaro. That price matching thing? They really mean it. I ended up with the sort of bargain you almost feel bad about. Almost.
Posted by Michelle on October 10, 2002 10:24 PM