Apparently, the tenderness I feel for red glass is strictly unrequited. Red glass does not love me, and in fact, only tolerates me for the sake of maintaining social equilibrium among our mutual friends.
Maybe it's a
Bullseye
thing. Tonight was my first shot at cutting any glass of that brand and right from the start, the sheet was different from what I've played with before. The glass was textured on both sides: an unpleasant discovery. The conventional wisdom says to always make scores on the smooth side of the glass, so as to increase the chances of a break that follows your score line and not a ridge in the texture of the glass; I suppose I assumed that there would
always
be a smooth side. The sheet also had two rough, poured-looking edges instead of nice straight cuts. The rough edges were raised a bit, slightly thicker than the rest of the sheet, making difficult a good start to a score (you only get one shot, if a score is weak you can decide to break anyway and hope for the best, or call it a loss and work around it). And for whatever reason, I found it tough to start scores on this glass even on straight-cut edges... is it possible Bullseye glass is just, like,
harder
than Spectrum or GNA?
Lastly, I was sufficiently unencumbered by clues to realize that the sheer size of this sheet of glass might call for a unique approach. Um, probably there are a lot of stained-glass craftspersons who would have no problem making a two-foot-long score on double-textured glass and then getting their
running pliers
to effect a nice straight two-foot-long break... but I'm not one of them yet. Baby steps, Michelle... baby steps.
Fortunately, I eventually got a handle on things and stopped fantasizing about how nice my crocus panel would look with a background of clear, untextured window glass. In the end I cut fourteen red pieces, plus the redo on the problematic piece of Cobalt Blue from a couple nights ago.
35 pieces down, 34 to go. Ninety-four percent of the remaining cutting will be of the Bullseye red. Ugh ugh.
The photo below, looking as it does a whole lot like most of the photos I've posted here to this point, is interesting for one reason only: my total-area ratio of cut pieces to scrap was way up tonight. (And would have been even more so had I not attempted that two-foot break, ending up with several only-partially-usable smaller chunks of glass.) Alas, the sudden improvement has more to do with my pattern than with my mad skillz: there were only two curved sides involved in tonight's 14 pieces, and everything else was straight lines. If I'd been working with a pattern that called for an equivalent amount of red, except curvy, I'd've cast away the evil bumpy red glass in favor of pillaging Don's basement stock of dusty window glass pretty damned quickly.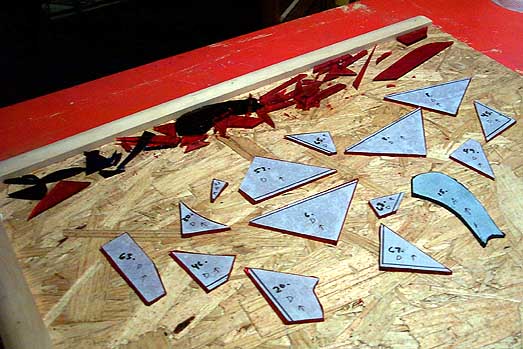 Posted by Michelle on October 12, 2002 11:45 PM