My pretty new grinder isn't so pretty or new any more.
Remember that big piece with the pointy-cut convex edge?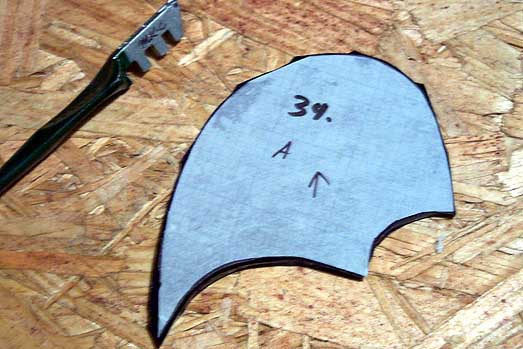 I had at it with the grinder tonight...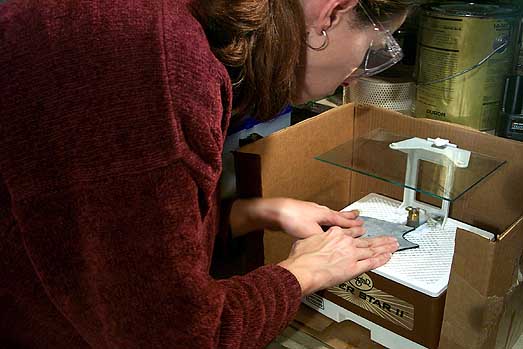 ... and now its edge is nicely un-pointy.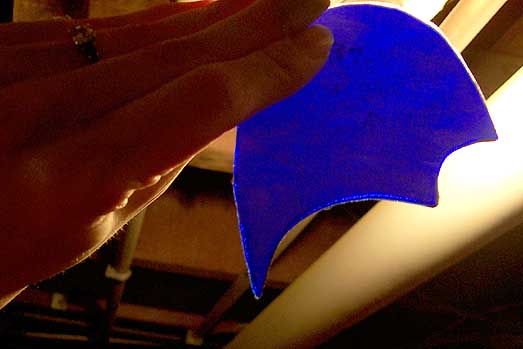 Issues with the grinder:
They are water-fed machines; a little sponge behind the grinding splindle brings water up from a reservoir underneath, to keep the glass cool so it doesn't crack, and to contain the mess of glass dust so as to avoid silicosis of the lungs. The problem with the water is that it loosens the glue on my pattern templates, sliding them around the glass, making it hard to know if I'm grinding away too much or too little.
The combination of water and tiny granules of glass also starts to wear away the Sharpie markings on my individual pieces. If I dally too long on the grinder with any one piece, I'm apt to lose my piece number markings, which would turn my stained-glass project into a 69-piece jigsaw puzzle.
And speaking of the Sharpie markings, on template pieces where there is a bit of black line remaining along the edge of the piece, it's tough to see on dark glass where the black line ends and where the glass begins, again making it tough to easily see if I'm grinding away too much or too little.
Don thinks maybe a grease pencil on glass, instead of glued templates and Sharpie, might help. It's worth asking my instructor about, if I can remember on Tuesday.
Bonus photo: all 69 cut pieces. 6 ground, 63 to go.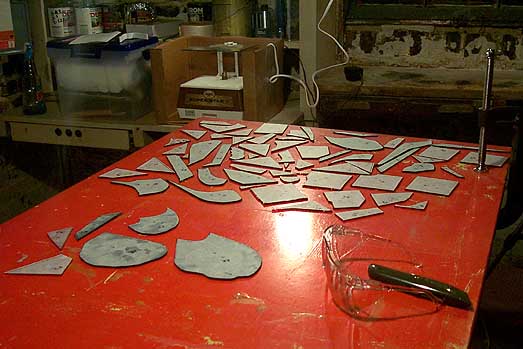 Posted by Michelle on October 17, 2002 10:39 PM