Busted ass Friday night and last night in order to get all my grinding done so I could begin leading tonight at class. There was no time over the weekend proper---among other things, our friends Kim and David got married in New York, so we took the train up to help them celebrate. Congratulations, you two, and many wishes for a long happy life together: if you can compromise on wedding-reception formal vs. jeans, you can get through anything.
I finished the grinding last night at about eleven. Spent much of tonight's class washing templates and glue from my glass pieces. V-e-r-y s-l-o-w-l-y: one piece at a time so I could renumber each piece immediately, directly on the glass. Then I found out that the edge strips of wood on my workboard weren't square, which is what I get for just assuming that the schmoes at Home Depot can cut a straight line in plywood. So I managed to pry up one of the edge strips and its nails and re-assemble---without the benefit of a hammer, even.
And then---
and then
---I started leading.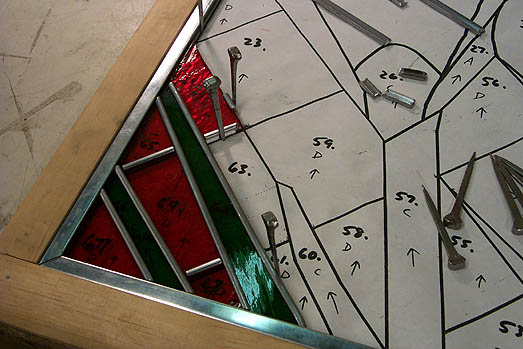 Incidental note: spotted a tiny jar of Mark Stay in my instructor's toolkit tonight. That answers that question.
Posted by Michelle on October 22, 2002 10:39 PM