Leaded eight more pieces tonight.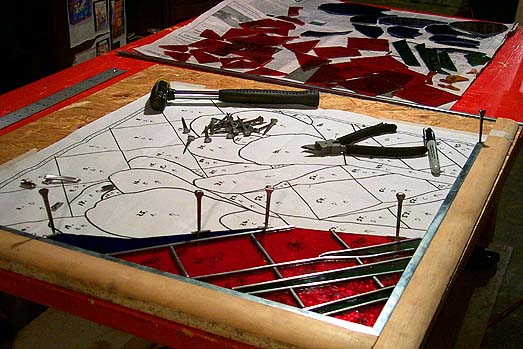 Maybe I'll regret all the work I plan to have done by my next class session. Wouldn't it suck to walk in, show the instructor what I've done, and have him say, "That's great but that piece three rows in is all wrong, you need to take it apart to that point and redo"? Still, I won't be able to leave it alone for four whole nights. No way. Even though there's a couple of gaps at my joints which I know are pushing the acceptable limit.
Unanswered questions of the night: If you have a lead line that's straight until it angles off at twenty degrees or so, is it advisable to bend your lead to fit, or to cut and fit two separate pieces? What if the angle is more than twenty degrees? And what's the best way to bend lead to achieve some degree of exactitude, especially with angles as opposed to soft curves? How much "wiggle," exactly, is permissible between pieces, to be filled in by solder later? Whose bright idea was it to design lead clippers that cut one side of the came in a straight line and the other in a 45-degree point? All this and more will have to wait for Tuesday.
Something I
did
learn tonight: It's a good idea to restrict access to your glass workshop to people you really, really love. That way, when they fumble and break one of the pieces which you've already cut and ground, then soaked off and trashed its paper template, there's some chance they will survive to tell the tale.
I'm not naming any names, but his URL is
ratbastard.org
.
Posted by Michelle on October 24, 2002 11:01 PM