42 pieces leaded.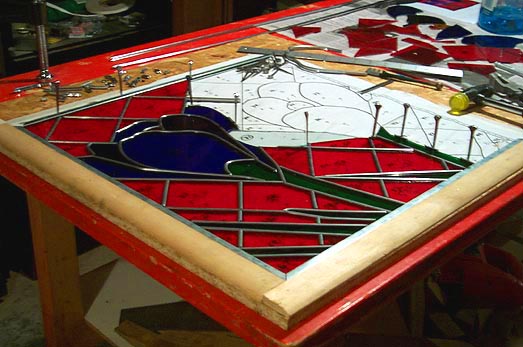 That includes one of the two pieces that were broken last week. In order to replace it, I traced its shape from the building pattern onto clear glass, cut and ground the clear glass to fit, then traced around that piece onto Dark Violet glass and cut and ground
that
. For the other piece that was broken, I have the clear piece cut and ground, but I think I'll see if I can shape the lead using the clear glass before cutting the stained glass. I'm finding that with curvy pieces, their fit may be altered by how closely you're able to curve the lead around them. With wavy or squiggly lines of multiple small curves especially, it's tough to make precise bends.
The 42 pieces now in place also include two that just didn't fit right, so I recut them. One of those was due to the squiggly-lead factor above; the other was all straight lines so I'm attributing its bad fit to straightforward screw-up on my part, somewhere in the cutting or grinding process.
I'd feel better about the progress I'm making if not for these three gaps:
Posted by Michelle on October 28, 2002 10:18 PM