58 pieces leaded.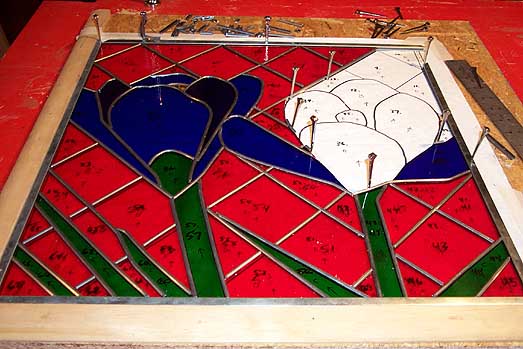 Took the photo above with a flash for a change, to try to show the colors better. It's still not exactly true but you get more of a feeling for it, anyway.
You may notice that the frame of the panel---which is zinc channel, not lead; zinc offers a lot more support---is shorter than it needs to be (on the right), or cut with the miter corners in the wrong direction (on the top). One of those is due to bad planning, the other due to sheer
duh
on my part. I'll leave it to you to decide which is which. I did drive down to Springfield last Sunday to try to buy more zinc but they were out of my size. Which means I sat in
Marine Corps Marathon
traffic, troubled by inadvertent and persistent thoughts of another time the roads around the Pentagon were clotted with running people, for no good reason. Which does
not
mean I didn't buy anything while I was there.
I'll try again this weekend.
Hopefully I'll be done leading by Tuesday night's class so I can start soldering. Our instructor gave us a soldering demo last week, and uh, yeah, I'm scared of that. I'll get over it, though. A good thing is that with the lead technique, unlike with copper-foil, you only solder joints in the lead, not all around the edges of every single piece. So there's less for a newbie with a soldering iron to screw up.
Totally random note: a jar of
Mark Stay
looks and feels exactly like a jar of ear wax. While this would no doubt impress our kitty
Garfield
tremendously, I am less than enthusiastic.
Posted by Michelle on November 01, 2002 06:14 PM