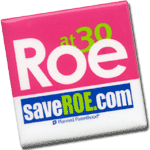 Mark Morford
rants
at SFGate.com:
[A]ny attempt to outlaw a woman's spiritually and karmically-empowered right to terminate her own reproductive cycle, any attempt to control it with guilt and punishment and murderous ultra-right-wing Christian firebombs, simply results more harm to women, more of the infamous, potentially deadly back-alley abortions featuring the ubiquitous coat hanger -- still in use, you can be assured, in many repressed states. This is not even a debate. This is what happens when you try to cram a personal religious-based ideology down everyone's karma. Just ask the Taliban.
Yesterday was the 30th anniversary of the Roe v Wade Supreme Court decision legalizing abortion. I spent a couple of hours in front of the Supreme Court building, waving a sign and making noise.
Here are 69 reasons why.
If those 69 reasons scare you, too, you might consider making a donation to
Planned Parenthood
or
NARAL Pro-Choice America
, or signing NOW's
Save Roe
petition to send an email to your state senators.
Thanks to the friends who came out with me in the face-numbing cold to the rallies yesterday, and thanks to Momma Bastard for the deliciously ranty link.
"Pro-life"
What a lie
You don't care if women die
Posted by Michelle on January 23, 2003 10:14 AM