The mysteries of lampmaking have been revealed to me. Some of them, anyway.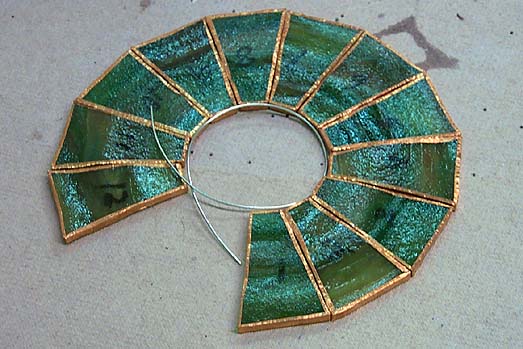 You start off by arranging the pieces of the top tier of your lamp in a nice tight semi-circle. Then you take a piece of twenty-gauge wire and bend it into a curve matching the inner curve of your semi-circle. The idea is to solder wire to the top edges of the foiled pieces in such a way that all the sides of the pieces fit snugly next to one another. When all the pieces are attached to the wire by their top edges, you draw up the wire almost like tying a knot, so that the first and last pieces of the semi-circle come together to make a full circle. Then you play with the angles of the individual pieces so that they create a shallow conical shape. You know that the pitch is right when all of the edges line up with one another. Then, start tack soldering---just enough to hold everything in place.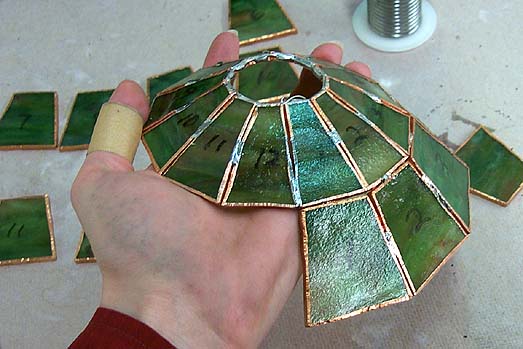 When you finish the first tier, you begin the second by soldering its top edge to the bottom edge of a first-tier piece. Each piece of the second and subsequent tiers will be tack soldered to the piece above and to the piece beside it.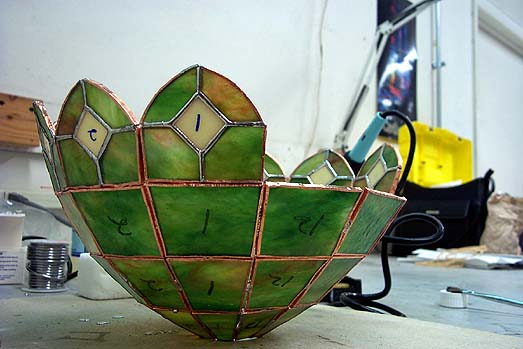 The shape of the lamp comes together amazingly quickly.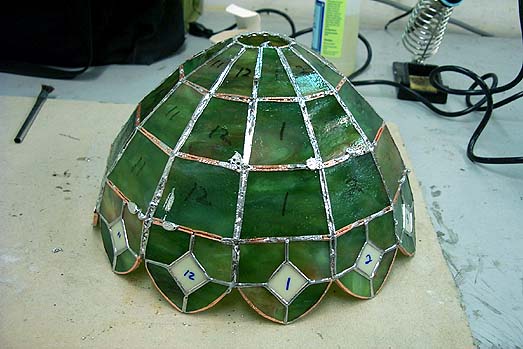 When all the pieces are tack soldered in place, it's time to do a "sloppy solder" on the outside of the lampshade. The idea is not that the solder work should be pretty, but that the lamp will have a good start at a solid construction. Up until this point, it's possible for the tack soldering to break. My lampshade isn't big enough that I have to worry too much about the lamp collapsing inward on itself, but a quick-and-dirty solder of the outside seams makes the lamp strong enough that I can then take my time in making finished, pretty solder lines.
When class ended, I'd done finish soldering on the inside of the lampshade. Nice clean lines. Next class session, I'll apply the outside solder seams and patina, attach a vase cap to the top of the lamp, and do something called "wire-wrapping" about which I know nothing except that everyone in the class who's done it
hates
it.
Posted by Michelle on May 20, 2003 07:50 PM