Went shopping for lamp parts today, one large and one small.
The small one is a vase cap, to be soldered to the top of my lampshade. The store's entire selection of vase caps came only in this brassy color which bears no relation to any stained glass patina known to man. I asked if the vase cap can be patinaed to match the lampshade---still haven't decided what patina I'll use, but will probably go with black. The answer was that the vase cap can be patinaed but will probably want to be tinned first. Tinning, of course, is applying a thin covering coat of solder, i.e.: prime opportunity to burn myself. Watch this space.
The big part for which I was shopping today was a lamp base. There are probably people who eschew "store-bought" bases in favor of hand-building something complex and unique, but I feel like I'm doing okay to have built a shade---I don't need to actually build a lamp. I'm okay with that.
I found a lamp base I liked, and made it mine. It's pictured below, with the vase-cap-less and yet-to-be-finished lampshade just sort of perched atop the harp of the lamp base, so that I can imagine what it'll look like when done: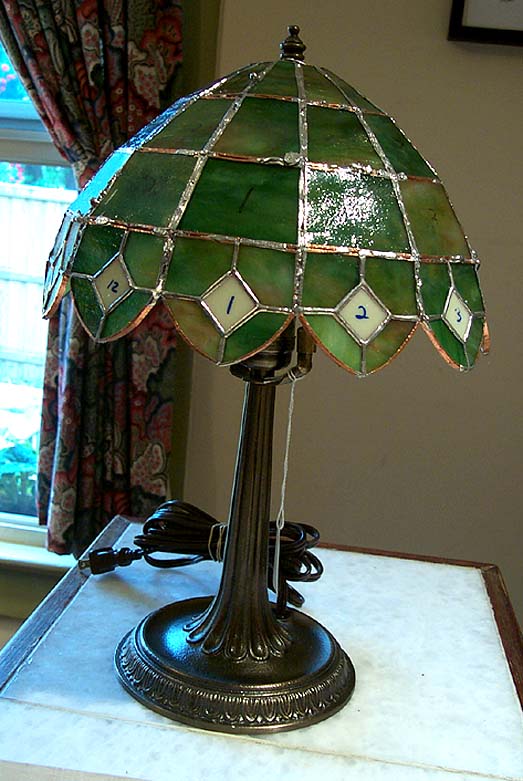 I didn't have glass class this week. We were originally supposed to, then last week, someone in the class suggested skipping Memorial Day's class and finishing a week late. Everyone agreed, which is to say, everyone else agreed and I abstained, seeing the numbers were against me. So the holiday meant I had to wait two whole weeks to do the last couple of hours of work on my lamp. Fortunately (or not) I've been so busy with work that I haven't had time to be impatient about building pretty glass things. Even so: this Monday, I'd better be coming home with a finish-soldered, wire-wrapped, vase-capped, patinaed, polished-shiny lampshade. I have a spot for the finished lamp all picked out and everything.
Posted by Michelle on May 31, 2003 06:01 PM