I started soldering my crocus panel tonight at class, and finished one side.
Which means it's finally solid enough to hold vertically. Which means I can finally see what it looks like backlit.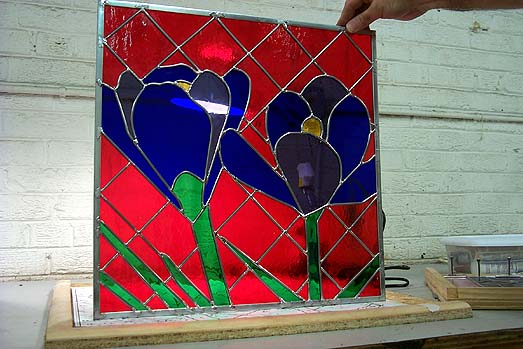 Sadly enough, I've decided I don't like the colors. They are a bit much, and it turns out that the Cobalt Blue isn't anywhere close to the Dark Violet when you put it up to the light---the Dark Violet lets a
lot
more light through, which changes the color match considerably. But whatever. My first-ever work of stained glass was never going to be mistaken for high art.
Also. There is a word for what my soldering work looks like, and that word is "ass." Again, I'm not too knotted up over it, one can't expect to be a genius with the soldering iron the first time one picks it up. But yick. Definitely thinking I'm going to patina the lead black; unless I'm wrong that would be
matte
black so my soldering clumsiness will be less glaringly obvious.
For grins, here's what the panel looks like turned over: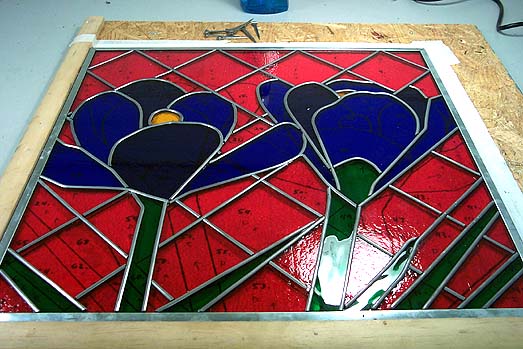 Lastly: did I call it or did I call it? I burned myself tonight. Tried to pick up and flick away a little ball of solder which had dropped onto my glass and dried there, succeeded in doing so before realizing that the little ball of solder had not, in fact, actually dried yet. Now the very tip of my right index finger stings pretty emphatically. S'okay, though; just very recently my daily requirement for typed output has dropped way off.
There are two class sessions left before my class is over. I think I may have someplace else to be Tuesday after next... so I'm going to try my best to finish up the panel next week. I'll solder the second side before the next class, then at class will do puttying and the one last step of "whiting" which basically consists of scrubbing the panel with chalk powder, reasons for which I did not catch.
At that point I'll bring the panel home, leave it alone for a day or two to let the putty set up nice and solid, and then patina it in the basement. Our class doesn't cover patina work, so I'm on my own there. But slapping black goo over my lead with a cotton ball doesn't sound too tough. She said, with uncharacteristic optimism.
After that? A copper-foil class as the first step toward working my way up to building lamps... and, at home, beginning design work on some transoms, before my sweetie puts me out of the house for failing to fulfill my home-improvement responsibilities.
Posted by Michelle on November 05, 2002 11:27 PM