Another milestone today: my first crack.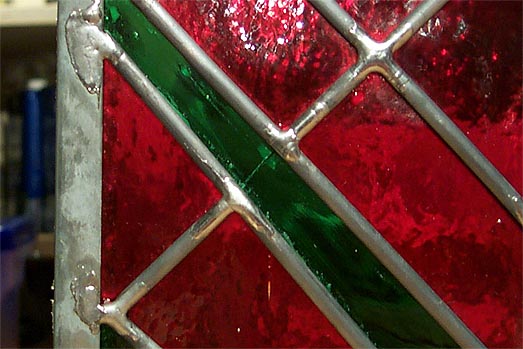 Sigh.
It doesn't exist in the photos I took at the end of last night's class, so either it happened in transport on the way home, or it happened during today's ill-fated solder session. I had a hell of a time with it, and I don't know why. Particularly with the joints of lead came to the zinc framing: the solder would pool over on the zinc as if the lead had a force field around it. Plenty of solder flux, plus brand-new soldering iron: you tell me.
Anyway, I have read that you can get cracks in your glass during soldering if you linger too long in one place with the hot iron. The radical shift in temperature---the soldering iron is 700 degrees F---can stress the glass and cause it to break. But I'd think I'd hear that---wouldn't I?---and too, the joints on either end of the break were pretty easy ones to solder.
I also discovered, on the previously inaccessible back side of my panel, a dime-sized chip on the edge of another of my green pieces. It won't be very noticeable, visually speaking, but it is going to make me nervous forever... such places are excellent points for breakage at some point in the future, and the chip is big enough that I have a feeling that when or if the piece does break there, it won't be a nice neat hairline crack like the one in the photo above.
I don't know. Too late to sweat these things now, for sure. I'm about 5/8 of the way through total soldering and there's no turning back now.
Posted by Michelle on November 06, 2002 05:25 PM