Twenty minutes or so until I have to scoot to get to my foil class. Let's hope this trip is somewhat less eventful than last week's.
I'm still currently short on spare time, but I should make some soon for updating this site. There's a lot I'd like to tell you about: the dubious fun of wrapping the edges of 1/8" thick glass in 7/32" wide copper foil tape; the joy of no longer having to basically bludgeon my glass into the proper shapes now that I have a Toyo pistol-grip glass cutter; the creepy hole I ground damn near straight through my fingernail completely without noticing, while grinding a piece of green glass not much larger than the eraser on a pencil.
But for now, I'll make do with a quick snapshot of my lilypads panel, all foiled, before I take it to class and start soldering all the copper seams this afternoon.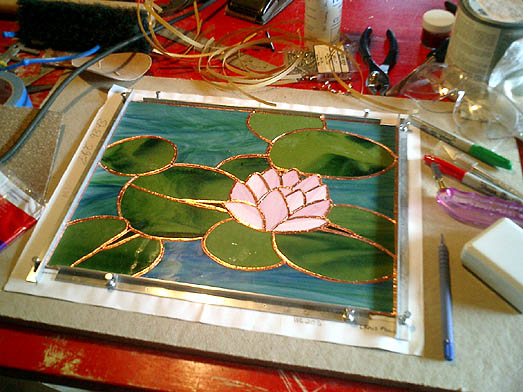 Posted by Michelle on March 22, 2003 01:12 PM