Very busy week, but in a good way, mostly. Without much spare time on my hands, my "homework" for my copper foil class didn't get finished until this morning. I had some grinding to do, then getting the pattern paper off all the glass (and I am becoming antsy to try working with a lightbox; the paper really is just such a pain). I was doing that up until shortly before time-to-go.
I was going to be only ten minutes late, and had called to tell Sharon so. Then the delay was lengthened by my being sideswiped in Chevy Chase by someone who paused for just a moment, after leaving a scrape down the driver's side door of my car, and then hauled ass down a convenient side street.
He wasn't fast enough that I didn't get his license plate number, however. Damage to my car was minimal; damage to my person was none. I gave the information to the nice Montgomery County police officers who quickly arrived on the scene. They made some calls and found out that the person who hit me was a seventeen-year-old kid late to a soccer practice, or something. His mother says that he won't be using the car again in the near future.
I was thirty minutes late to class, so I was able in the end to get exactly one piece of my lilypads panel foiled today.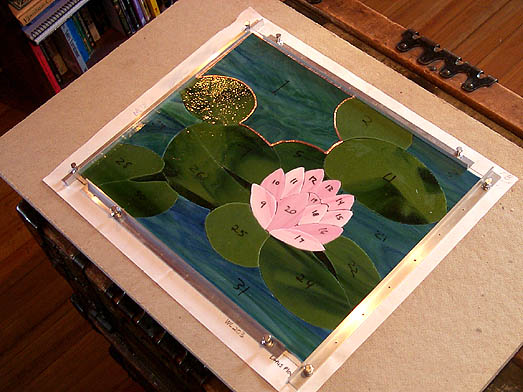 Posted by Michelle on March 15, 2003 05:32 PM