Saturday afternoon I started my beginner copper foil class at Weisser in Kensington.
The instructor is a young woman named Sharon who had helped me at the store once or twice and who had impressed me then as seeming very competent and helpful. There are three students in the class, held in Weisser's little retail location in the Antiques Row area.
This first class session was mostly spent picking out patterns and glass; it's next weekend we'll start to get into the foiling process itself. Sharon did talk a bit about the differences between the lead and copper methods, the highlights of which were that you can do more intricate, detailed work with copper, and that as a result you see more pictorial or representational work done in copper, vs. the more symmetrical or geometrical work done in lead.
The downside to all this is that you have less cheating room in foil than in lead. There is no pre-formed metal channel to hold and hide less-than-perfect edges of glass. Instead, you're basically laying copper tape around the edges of each glass piece, then soldering all the way along the seams on both sides of the panel. The copper foil magically joins with the solder, or something, creating a solid framework that holds all the glass in place.
But all that is getting ahead of myself; for now I have been cutting pattern pieces and cutting and grinding glass. Currently I have 19 pieces cut and ground... 14 little picky flower-petal pieces remain.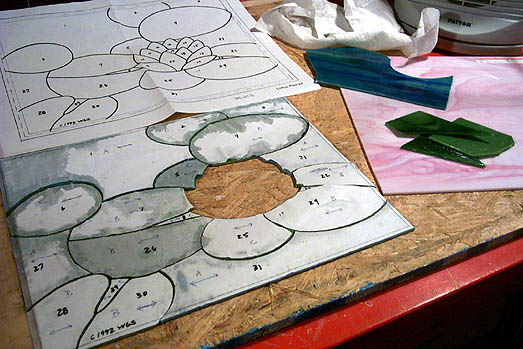 It occurs to me it's been a while since I did any cutting, but am back in the swing of things now, having slightly punctured myself a number of times over the weekend. Not too badly in any case, though, and in fact I did commit greater violence upon my hands cooking dinner on Saturday night, wielding too flashily a great big Wusthof chef's knife while bias-cutting green beans for stirfry. Even that pales in comparison to the still-healing damage I did shovelling out two-and-a-half parking places after the big storm of three weeks ago. Glass wounds may bleed dramatically, but heal neatly in no time. It's not such a bad deal, really.
Posted by Michelle on March 10, 2003 08:41 PM