And so I fled February, fled winter, as if all the demons of hell were behind me... when in fact they lay directly ahead. Here was my drive to Georgia: DC, snow; Virginia, rain; North Carolina, ice; South Carolina---well, it's South Carolina and doesn't need anything else; Georgia, fog. So much fog.
But we made it there in good time, somehow, and had a lovely trip. (Insert "y'all come back now" joke right... about... here.) We even acquired a souvenir, courtesy of Vineyard Antiques at the corner of Ponce and Charles Allen, from which location you can smell the Ponce Krispy Kreme, which puts it firmly within the radius of my old Midtown stomping grounds. Anyway, the souvenir: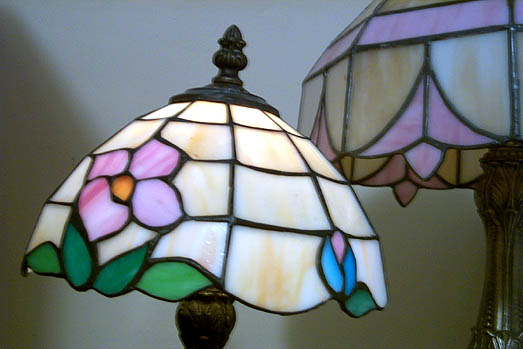 It is a small lamp whose stained-glass shade features very nearly the exact pink and cream colors of
Protein's lamp
. Between that and its bargain price (twenty dollars! who needs U Street?), it was obviously meant to be ours.
(I do wish I'd pulled out my tiny camera long enough to get a photo of a hanging stained-glass lamp that was for sale at The Fainting Couch, next door to Vineyard. I had been taught that lead came is not strong enough to withstand the weight and gravity of 3D construction over time. This terrible lamp proved the point. Someone had put together this big heavy thing with lead came, and you could see where the came was sagging and drooping, causing the glass to begin to slip from its intended positions... someone who doesn't know any better is going to buy that lamp, and that someone is going to come home one day and find a great pile of broken glass and twisted lead on their floor, directly beneath where their ugly hanging glass lamp once precariously dangled.)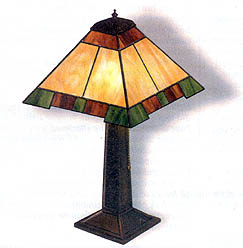 We won't be buying many more glass lampshades, however. Tomorrow I begin my beginner copper foil class at Weisser, which runs through April 5th; two days after that I'll be back with Jimmy at the Art League and doing 3D construction. Since I already know that Jimmy is all about letting students do pretty much exactly as they please, especially after having taken one basic class, I think I'm planning to build the panel lamp pictured at right (from Issue #57 of
Stained Glass News
). Or something like it, probably without the inclusion of any
brown
glass. Eugh.
It won't go with the pink lamps one bit, but the pink lamps don't go with the house one bit, so I call that breaking even.
Posted by Michelle on March 07, 2003 04:45 PM